Date: 30 March 2023
Author: Clara Gobbe, Policy Manager, WFA
Last week, ​​the Intergovernmental Panel on Climate Change (IPCC) released the Summary for Policymakers of its Synthesis Report providing a comprehensive overview of the current status and trends of climate change, outlining its widespread impacts and risks, and highlighting the urgent need for implementing mitigation and adaptation measures. The Summary, which condenses the main findings and policy recommendation of the IPCC's Sixth Assessment report, is highly influential in policy, academic, and media circles, among others. 
For the World Federation for Animals and its members, the IPCC reports are of strategic importance, as they provide valuable evidence of the role that animals and their welfare can play in climate change mitigation and adaptation. In particular, the IPCC findings are essential as we engage in international policy processes, such as the UN Framework Convention on Climate Change. For instance, at COP27, our position paper encouraged policy makers to protect wildlife and ecosystems to enhance carbon sequestration and storage, while also tapping into the mitigation and adaptation potential of plant-based food production and consumption. Our analysis and recommendations were informed by various scientific studies, including those from the IPCC's reports. 
The report's Summary validated three important facts:
1. All life on earth is impacted by climate change. 
The IPCC's report is unequivocal: human activities have significantly warmed the atmosphere, oceans, and land, resulting in more frequent and intense heat events that have led to human fatalities (paragraph A.2.2) and the loss of hundreds of species on land and in the ocean (A.2.3). Climate-related diseases, such as those transmitted by food and water are also on the rise. 
Climate hazards are set to increase in all regions of the world, posing high risks to animals, humans, and the ecosystems they depend on. Floods and draughts, among other impacts, will continue to increasingly threaten land, freshwater, and ocean ecosystems, as well as food security and other services they provide (B.2.1). Importantly, the IPCC recognises the "interdependence of climate, ecosystems and biodiversity, and human societies; the value of diverse forms of knowledge; and the close linkages between climate change adaptation, mitigation, ecosystem health, human well-being and sustainable development".
2. Urgent action is needed to prevent further extinction of wild animals.
"As warming levels increase, so do the risks of species extinction" (B.3.2). Climate change has caused extensive damage to our ecosystem, and without decisive actions taken in this decade, the risk of further species loss is substantial. The visualisation below published in the Summary highlights the projected risks of species loss, which increases as they become more exposed to dangerous temperature conditions.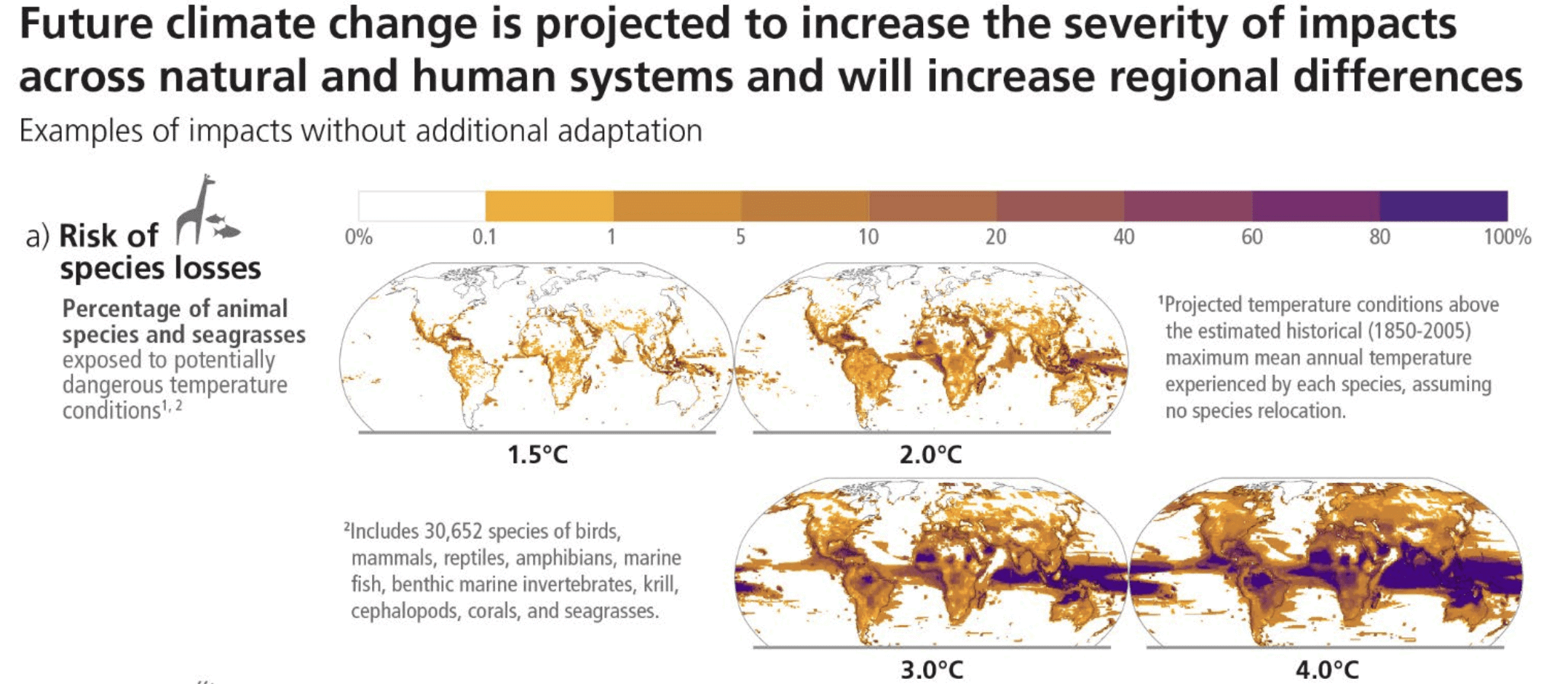 "… Conservation, protection and restoration of terrestrial, freshwater, coastal and ocean ecosystems, together with targeted management to adapt to unavoidable impacts of climate change reduces the vulnerability of biodiversity and ecosystem services to climate change, reduces coastal erosion and flooding, and could increase carbon uptake and storage if global warming is limited. Rebuilding overexploited or depleted fisheries reduces negative climate change impacts on fisheries and supports food security, biodiversity, human health and well-being". (C.3.6)
The IPCC emphasises the importance of taking measures to protect and restore terrestrial, freshwater, coastal, and ocean ecosystems to preserve biodiversity and their mitigation potential. Forests play a vital role, with reduced deforestation in tropical regions having the highest total mitigation potential (C.3.5). 
Animals also have a critical role to play in preserving natural carbon sinks. Growing evidence suggests that wild animals contribute to an ecosystem's ability to provide services of benefit to us all, including carbon sequestration and storage. For instance, forests with elephants in the Congo Basin have 7 percent more above-ground biomass than similar forests where elephants were extirpated decades ago. Similarly, marine animals are responsible for much of the carbon sequestration in the ocean. The concept of "fish carbon" recognises the potential of marine life to address climate change challenges and prevent biodiversity loss. 
Taking measures to protect and restore ecosystems and wildlife can have a significant impact on mitigating climate change and preserving biodiversity.
3. A shift to sustainable healthy diets, featuring plant-based foods and animal-sourced food produced in sustainable & low-GHG emission systems, are necessary.
Existing evidence suggests that emissions from farmed animals in the food system account for at least 14.5 percent of global anthropogenic greenhouse gas emissions, while aquaculture contributes to climate change with a similar average emission intensity as the production of terrestrial monogastric species (e.g., pigs and chickens). To mitigate these emissions, the IPCC recognised the benefits of transitioning to sustainable healthy diets, which can reduce ecosystem conversion, and methane and nitrous oxide emissions, and free up land for reforestation and ecosystem restoration (C.3.5). Such diets, noted the IPCC, consist of plant-based foods and animal-sourced food produced in resilient, sustainable and low-GHG emission systems (C.3.5).
This builds on the previous IPCC report which concluded that "diets high in plant protein and low in meat and dairy are associated with lower GHG emissions (robust evidence, high agreement)."
What now?
Under the rules of the IPCC,  governments can take part in the production of the Summary for Policymakers. While this may result in weakened messages, this should also mean that governments cannot ignore the findings they have themselves endorsed.
Animal protection organisations play a role in holding governments accountable. Internationally, we must continue to raise awareness about these issues during the Bonn Climate Conference in June 2023,  where the COP Subsidiary Bodies will be convened, and during COP28. It is crucial that we give visibility to the need to transition towards plant-based diets, which is a science-based and effective climate mitigation strategy. WFA will continue to advocate for the inclusion of this recommendation in the UNFCCC negotiation  process. We  have recently submitted our views on the Sharm El-Sheikh joint work on implementation of climate action on agriculture and food security. 
Furthermore, it is vital that we emphasise the importance of protecting wild animals and their ecosystems to increase carbon uptake and storage.
Photos by Jo-Anne McArthur on Unsplash
Background 
The Intergovernmental Panel on Climate Change

is the United Nations body for assessing the science related to climate change. It provides regular assessments of the scientific basis of climate change, its impacts and future risks, and options for adaptation and mitigation.

The IPCC Assessment Reports are tomes that review and compile the latest scientific evidence regarding climate change. There are generally hundreds of authors contributing to these reports. Authors are nominated by member governments, organisations and by IPCC Bureau members, and selected by the

Bureau

. 

The

AR6 Synthesis Report

(SYR) integrates the main findings of the Sixth Assessment Report, which includes three Working Group Assessment Reports and three Special Reports. This is the 6th report published by the IPCC since its establishment in 1988.

The

summary for policymakers

published alongside the SYR allows governments to keep abreast of the main findings  and policy recommendation of the IPCCs latest reports. The SYR full report is expected to be published soon. 

The IPCC will begin a new assessment cycle in July 2023 for five to seven years.